13 Tricks to Keep Your Dog Safe This Halloween
---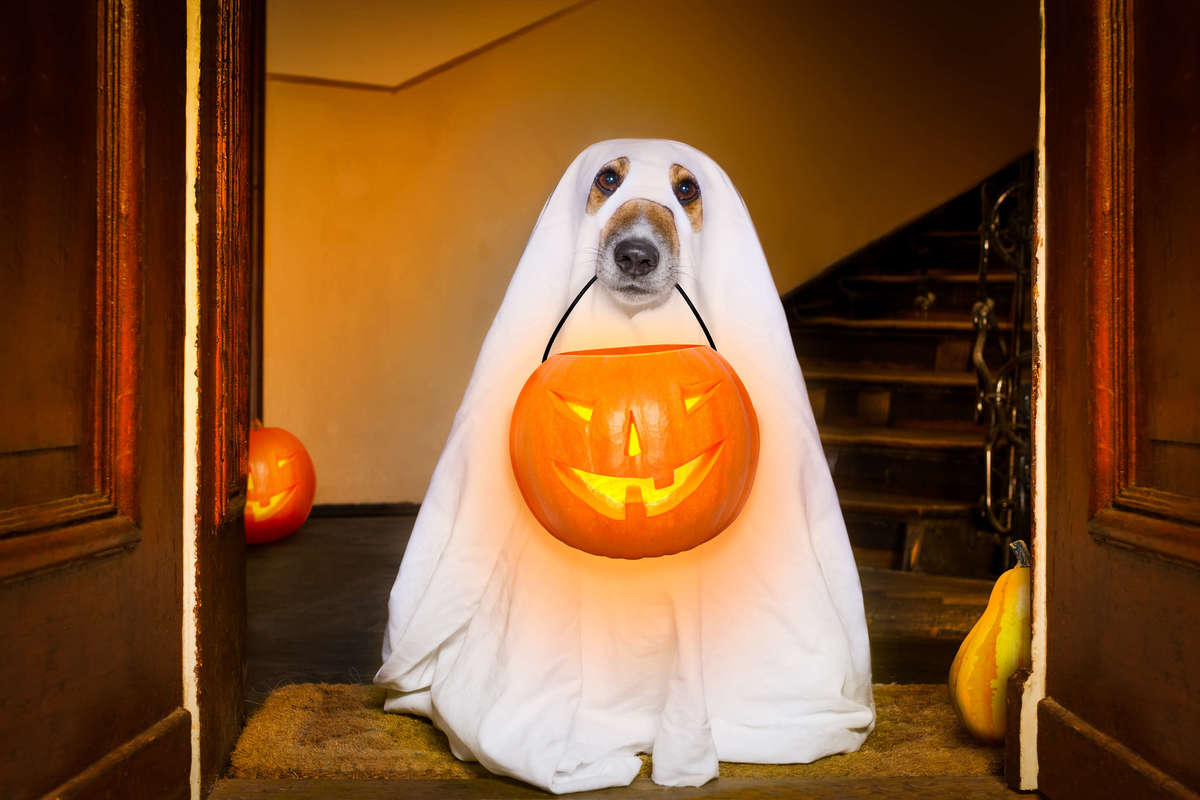 You've filled the candy bowl with Jolly Ranchers and Reese's Cups, carved a scary jack-o-lantern that's the envy of the neighborhood, and made your dog the cutest costume from Pinterest.

You're ready for the perfect Halloween!

But did you know that Halloween can be a challenging time for our furry friends?

Here are 13 tricks for dog safety this Halloween—helping you keep it happy and horror-free.
1. Human Treats Aren't Dog Treats
Keep all treats out of sight and reach of your dog—some will be toxic for them.
Chocolate—especially dark—is very dangerous. And sugar-free candy containing substitutes can cause serious health problems.
If your dog eats something he or she should not have, call your vet immediately or the
ASPCA Poison Control Center
at 888-426-4435.
2. Costume Care
Some pets may love dressing up while others may get anxious. Don't put a costume on your dog unless you know he or she is calm and happy wearing it.

Avoid costumes that restrict your dog's movement or breathing and barking. And check the outfit for pieces that could be chewed off and become a choking hazard.

Costumes that don't fit can lead to injury if they get twisted or caught on other objects. So make sure the costume your dog will wear is safe!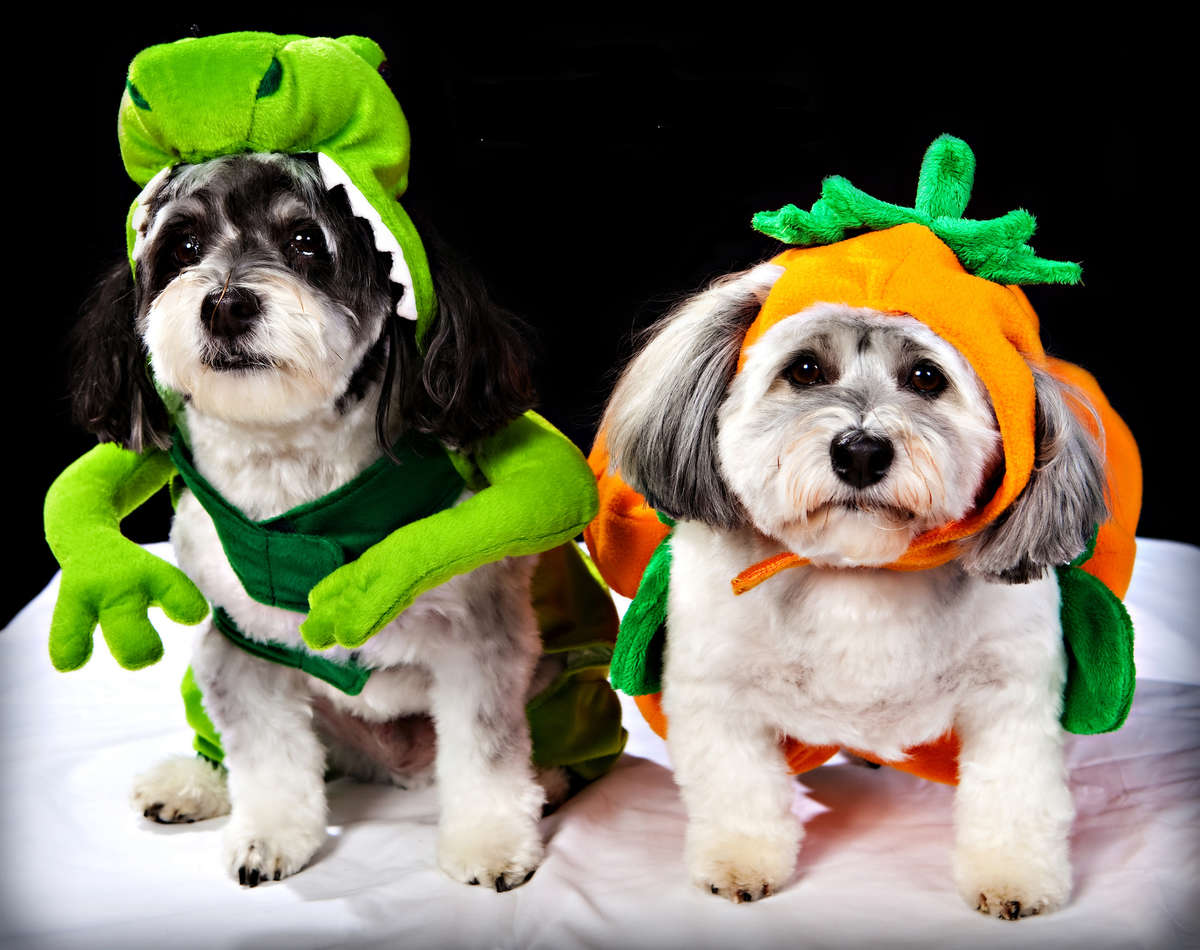 3. Keep a Calm Environment
Lots of activity and visits to the front door by strangers wearing masks can agitate your pet.

All but the most social dogs should be kept away from the hubbub of activity, in a separate room with their familiar toys, water and visits from you.

When opening the door for trick-or-treaters, be sure that your dog does not have the means to run outside.

More dogs go missing on Halloween than most other times of the year—don't let this happen to your pup!
4. Keep Your Dog Identifiable
Having proper identification on your dog increases the chances that they'll be returned home if they get lost on Halloween.

Make sure your dog is wearing a collar with ID tags and is microchipped. Review the microchip records so that they're up to date.

So, if your dog does dart away from you, at least he or she will be identified and returned to you safely.
5. Minimize Stress for Your Dog
Before the evening's festivities begin, it's a good idea to exercise your dog.
Getting rid of some excess energy will help your dog remain calm during trick-or-treating.
Of course, we'd also recommend treating your dog to some
CBD Hemp Oil
. It's helped many pets beat their anxiety and could help yours.
Whether you're dog is prone to anxiety or not, make sure they have a fun toy to play with during the witching hours. It'll keep them occupied and stress-free.
See
this article
for more tips on how to help your pet with anxiety.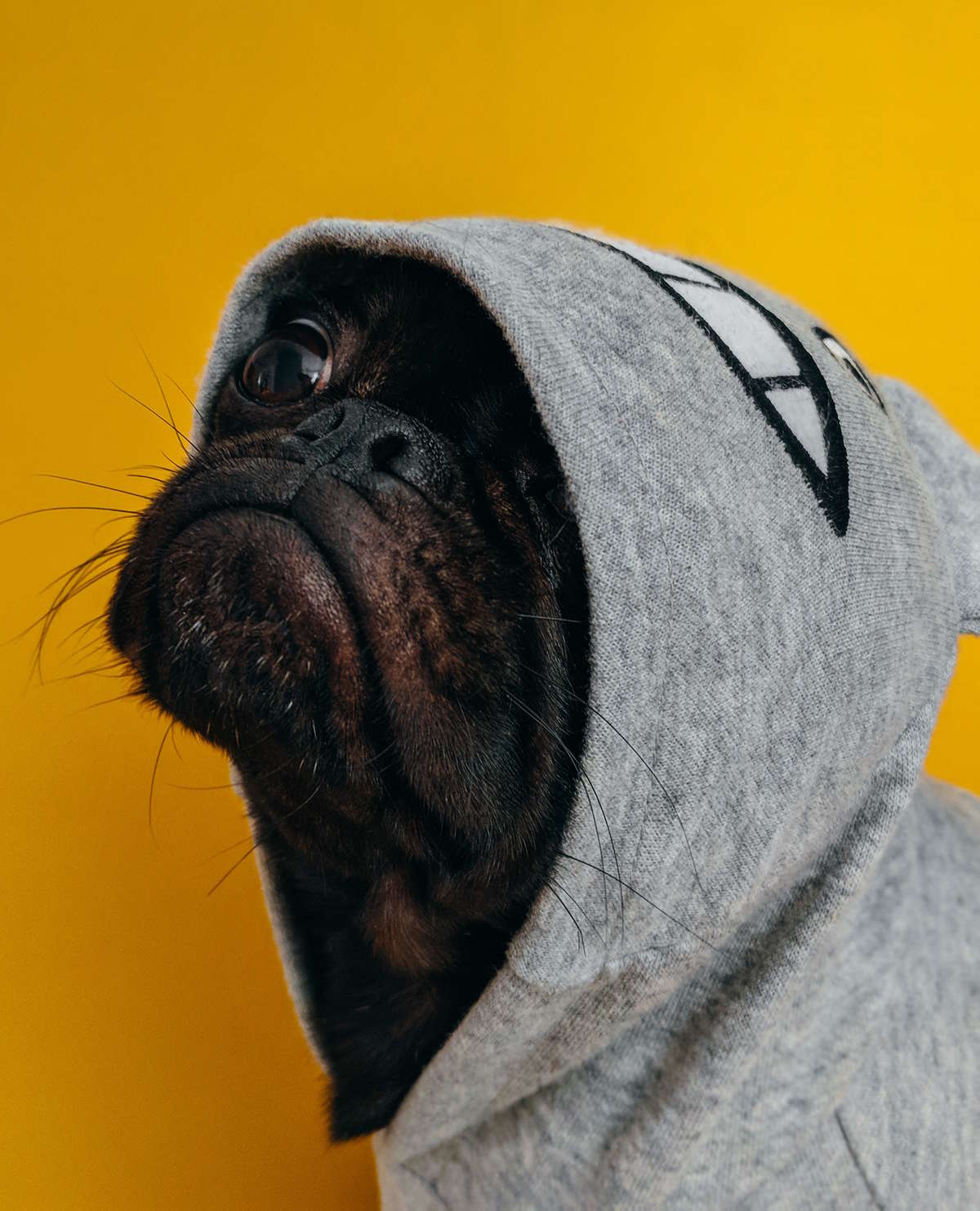 6. Make Decorations Dog-Friendly
As fun as decorations are on Halloween, they can also pose a risk to your dog. The key here is to keep them out of reach!

Anything lit like jack-o-lanterns should be somewhere they can't be knocked over by your pup. Apart from harming your dog, there's a real risk of starting a fire.

Keep edible decorations like pumpkins, gourds and corn out of reach. These could upset your dog's stomach if he or she were to get hold of and eat them.

Make sure electric and battery-powered decorations are out of snatching distance. While safer than an open flame, electrical or battery-run décor can still be risky around dogs.

Wires or batteries can be chewed on. And hanging wires can become tangled in your dog's legs or around their paws.
7. Keep an Eye on Your Dog Outside
Don't leave your dog outdoors on Halloween night or allow them out without keeping an eye on them.

Sadly there have been cases of pranksters teasing, stealing, injuring and even killing dogs on Halloween night.

So, if your dog is outside, prevent any mischief by watching them. And if you are going out yourself, make sure your dog is secure and safe in the house.
8. Glow Sticks are No-Sticks
Glow sticks are a popular accessory on Halloween and help keep our young trick-or-treaters visible.

They may be child-friendly, but they're not dog-friendly—as our beloved canine friends love to chew anything and everything they can get their paws on! So, as with other decorations, keep these out of your dog's reach.

There's no need to panic if your dog does get hold of a glow stick though. Most of them contain non-toxic liquid.

But the nasty and unexpected taste may leave your dog stressed, drooling and pawing at their mouth. Not a happy Halloween puppy!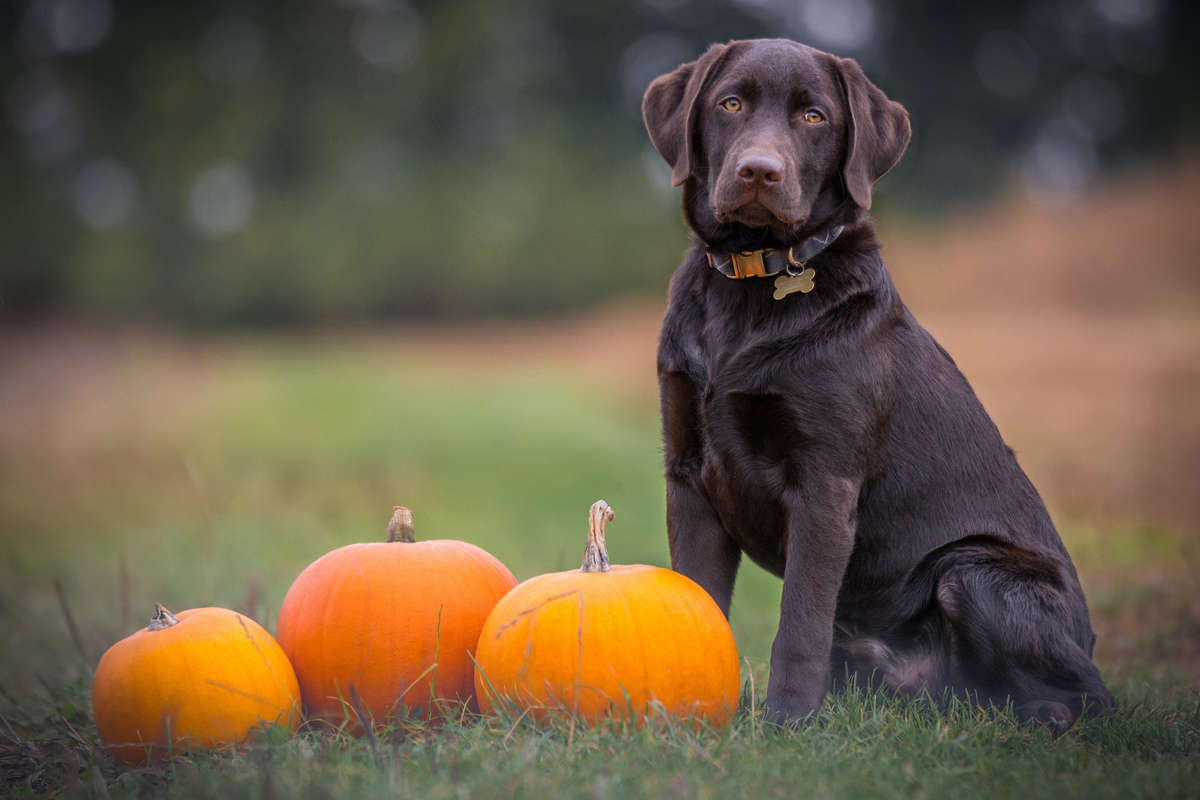 9. Trick-or-Dog
Think twice before bringing your dog along trick-or-treating with the kids.

Your normally friendly dog could become stressed and lash out at a little ghost or witch.

And leaving them in a dark car while you escort your kids around for candy can be scary for your dog.

For their own safety, leave your pet at home in a secure, safe environment with their favorite toys and treats.

If you must take your dog with you, make sure you have them properly secured with a good leash.
10. Feed Your Dog Before the Party Starts
Feed your dog before any festivities begin so that they're not anxious about all the candy, treats and noise surrounding them.

Knowing that they have their own food and treats will keep your dog from begging or becoming aggressive around others who have candy or snacks.

Keep some special doggie treats around so your dog can be included in the fun.
11. Walk Safely
Make sure you have a secure, safe leash for your pet that you can count on for strong pulls and tugs during all the excitement.

Keep the leash short, saving the extendable leash for more quiet walks. A reflective vest or harness is a great way to keep your dog visible during evening walks.

Harnesses are especially good to make excitable tugging easy on your dog if they get excited by all the Halloween hubbub.

Carry a flashlight or use glow sticks to keep yourself visible.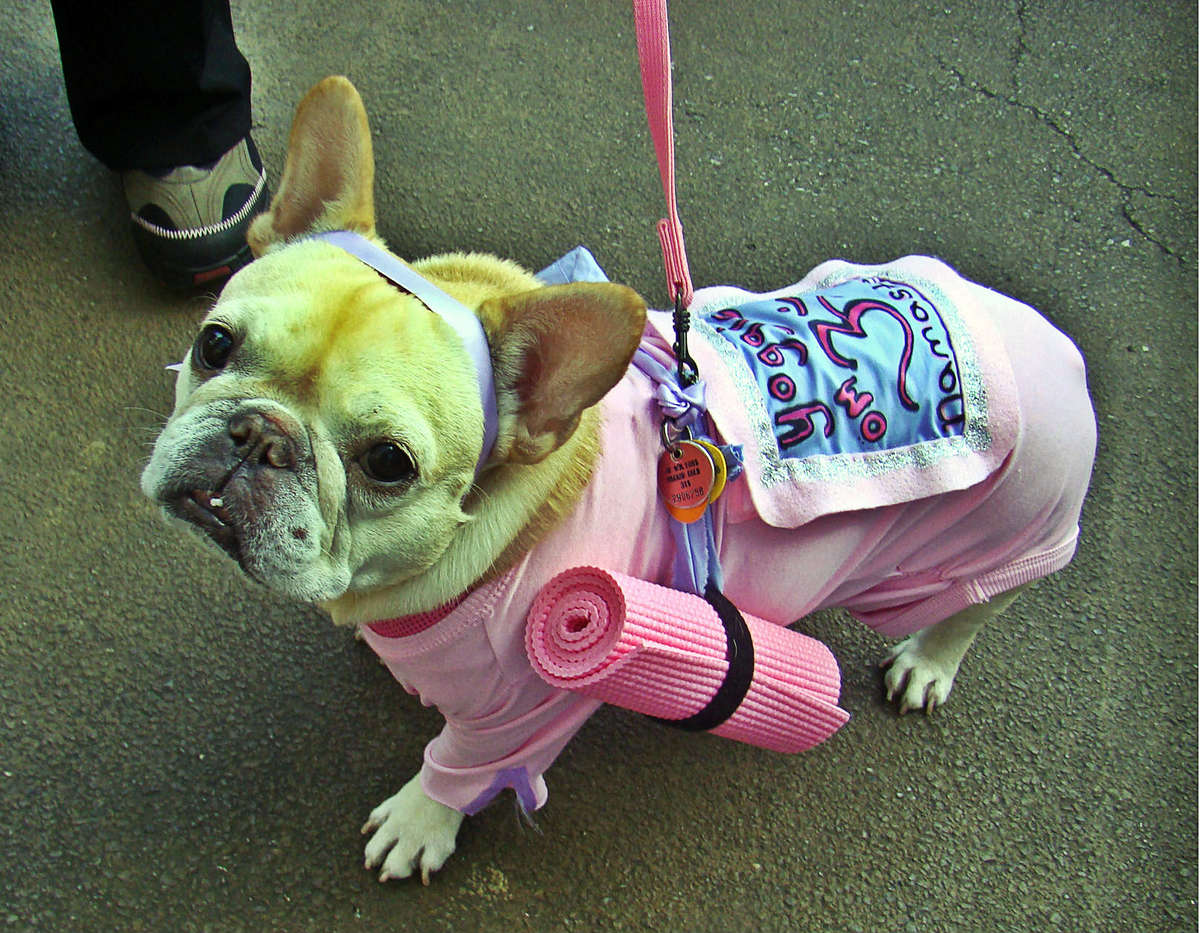 12. Be Prepared
Know the phone number and street address for your local animal emergency room in case anything goes wrong.

Pay special attention to your dog in case they eat or drink something while you are not looking.

Make it a fun night but be aware of your dog's health and safety.
13. Know When to Say No
Halloween is not for every dog, and that is okay.

If your pup is frightened by strangers or costumes or aggressive with other dogs, it is probably best to avoid any stress and keep them home where they are safe.

Don't force your dog to be around company or receive unwanted attention just because it's Halloween.
Halloween Doesn't Have to be Scary
You may think we're party poopers, but it's important to be aware of potential doggy risks any party season.

By following these simple tips, you can keep your dog safe and have a happy Halloween filled with treats, no tricks and no mishaps!